Bundesliga Season Preview (2019/2020) – Eintracht Frankfurt
Basics: Full Name: Eintracht Frankfurt e.V.
Nicknames: Die Adler (The Eagles); S.G.E.; Launische Diva (Moody Diva) Founded: March 8th, 1899
Club Colors: Black, White, Red.
Primary
Rivals: Kickers Offenbach, Mainz '05, 1. FC Kaiserslautern,
Fan Friendship: Oldham Athletic (England)
Stadium – Der Commerzbank Arena (Der Waldstadion)
Y
ear Built: 1925
Capacity: 51,500 2017-2018
Attendance: 834,700 (49,100 per match; 7th in Bundesliga)
Trophies: German Championship – 1959 DFB Pokal – 1974, 1975, 1981, 1988, 2018 2.Bundesliga – 1997/1998 UEFA Cup/UEFA Europa League – 1979-80 UEFA Intertoto Cup – 1967 2019/2020
Bundesliga Position: 7th DFB
Pokal Result: Lost in First Round
Europa League Results: Semi Final Defeat to Chelsea
Additions: Erik Durm (Huddersfield), Martin Hinteregger (Augsburg), Dejan Joveljic (Red Star Belgrade), Dominik Kohr (Bayer Leverkusen), Djibril Sow (Young Boys), Rodrigo Zalazar (Malaga), Kevin Trapp (Paris-Saint Germain)
Losses: Danny Blum (Bochum), Sebastien Haller (West Ham United), Mischa Häuser (FSV Frankfurt), Branimir Hrgota (out of contract), Luka Jovic (Real Madrid), Nelson Mandela Mbouhom (end of contract), Andersson Ordonez (LDU Quito), Tobias Stirl (Wolfsburg reserves), Kevin Trapp (Paris St. Germain, end of loan), Rodrigo Zalazar (Korona Kielce, loan)
The team 2019/20.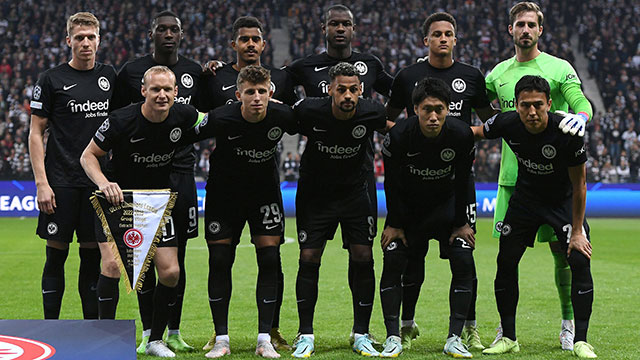 2018/2019 Overview

:

The season started off horribly last year for Adi Hütter's squad. Starting with a disappointing American pre-season tour that showed them drawing Real Salt Lake (1-1) and losing to The Philadelphia Union (1-0), Hütter's squad continued to struggle to find traction. Losing to SSV Ulm (2-1) in the opening round of the DFB Pokal, Bayern Munich (5-0) in the DFB Super Cup. Eintracht went on to post a 1-1-3 record their first five Bundesliga matches. When Eintracht finally found their ground however, they did so in style. They won every game in the group stage of the Europa League, and went on a midseason run that saw them jump to as high as third in the standings on Matchday 12. Eintracht came back from the Winter Break to go unbeaten in 11 straight Bundesliga matches, and go unbeaten in both Europa League and Bundesliga play from January 19th to April 14th. Hütter had them playing a high flying, free wheeling attack that included a Dusseldorf 1-7 Eintracht Frankfurt victory in which Luca Jovic notched 5 goals. After the semi-final loss to Chelsea in the Europa-League, Eintracht faded down the stretch losing their last three games. Thanks to a key 4-2 victory from Mainz 05 over FSV Hoffenheim on Matchday 34 Eintracht managed to qualify for Europa League in consecutive seasons for the first time in almost 25 years. Roster Breakdown:

Goalkeeper




Frederik Rønnow, Felix Wiedwald, Jan Carpenter, Kevin Trapp.
After rumors swirled all offseason, Kevin Trapp is finally back in Eintracht. This time on a permanent deal that should make him the #1 in Frankfurt with a contract that runs through 2024. Trapp was rock solid last year, ranking second in Bundesliga play with 124 shots saved. He posted 8 clean sheets, and gave up one goal or less 22 times during Eintracht's run in the Bundesliga last year. He came up big in big spots. Even though Eintracht eventually fell to Chelsea on penalty shots in the Semifinals of the Europa League, Trapp came up big time and time again. The main questions will be depth, and what Eintracht will do with Frederik Rønnow. Ill timed injuries have hurt Rønnow , who has yet to see significant action since his arrival. Trapp's transfer this summer most likely means the end of Rønnow's tenure in Frankfurt. Both Rønnow and Felix Wiedwald are capable number 2's and can handle the workload over a short span should the need arise.
Central
Defense:
Evan N'Dicka, Martin Hinteregger, David Abraham, Makato Hasebe, Simon Falette, Marco Russ, Tuta
The most important part of Hutter's scheme, and the most overlooked position on the field, the boys at the back for Eintracht Frankfurt in the 2018/2019 campaign where tuff as nails all year long. Makato Hasabe made the transition from midfield to central defender wonderfully, and despite aging legs both he (35) and David Abraham (33) continually scrambled all over the field to make big plays. The youngster Evan N'Dicka started the year on fire, and even though he leveled off down the stretch was a huge part of Eintracht's scorching midseason run. Martin Hinteregger was an instant fan favorite for his tough, gritty play and really added depth and stability to the back line. The #HintiArmy was was born, and the fans cared enough to send letters and cards to FC Augsburg begging for his release. The depth behind this four varies. Simon Falette has played well when called upon, but is not in Hütter's plans. Falette managed only 1100 combined minutes and had big plays in the come from behind victory over Marseille in October but didn't factor at all during the second half of the season. Marco Russ also doesn't seem to feature much this upcoming year, but the veteran is always ready when his name is called upon.
Wing Backs:
Danny Da Costa, Filip Kostic, Timothy Chandler, Erik Durm, Almamy Toure,Taleb Tawatha
What Danny Da Costa and Filip Kostic accomplished last year was simply phenomenal. Da Costa played every single second of play for the Eagles in the Europa League, Bundesliga, The DFB Super Cup, and DFB Pokal. If Eintracht was playing, Da Costa was pulling 90 minutes of action. Kostic was not far off his pace in terms of minutes played. It's not just about the amount of minutes they played, it's how they played. Da Costa and Kostic both played high intensive, very demanding roles for Adi Hütter last year. Covering box to box, defending the opposing wings and being the threat to stretch the defense, Da Costa and Kostic wreaked havoc on the opposition for most of the year. Both are dangerous crossers, and have the ability to finish. Da Costa and Kostic were also completely gassed over the final month of the season and the results on the pitch showed. After Eintracht's loss to Chelsea in the Europa League semi-finals, Eintracht lost total traction. Bayer Leverkusen exploited the wings routinely en route to a 6-1 victory on May 5th, and Bayern Munich had a field day in their 5-1 win over the Eagles on Matchday 34. The good news is Eintracht have added depth in the summer transfer window with the additions of Erik Durm (transfer – Fullham) and Timothy Chandler (knee injury). Durm is a sturdy player capable of holding down the demanding position, and Timothy Chandler returns after a year of recovering from a torn meniscus. Chandler was a key player for former coach Niko Kovac during the 2017/2018 DFB Pokal winning campaign. Almamy Toure should feature some for Eintracht as well. This is a position of strength for the Eagles.
Midfield:
Gelson Fernandes, Jonathan De Guzman, Sebastian Rode, Djibril Sow, Mijat Gacinovic, Lucas Torro, Marc Stendera, Nils Stendera, Nicolai Muller, Dominik Kohr, Sahverdi Cetin, Patrick Finger, Marijan Cavar
The midfield was sort of an enigma for Eintracht last year. Although the play from players such as Jonathan De Guzman and Gelson Fernandes was often solid, it lacked the energy and creativity to really make the Eagles a contender. Mijat Gacinovic played very well in Europa League play (2 Goals, 7 assists in 14 appearances), but his production was almost non-existent in the Bundesliga (0 Goals, 2 assists in 29 appearances). Sebastian Rode offered quality play and defensive stability upon his arrival from Borussia Dortmund in December. He was a key component in Eintracht's semi final run in the Europa League. Lucas Torro also played well when in the lineup, but missed the better of 4 months with a torn abductor muscle. Torro is a quality defender and really goes after balls in the air well,Image result for Sebastian Rode and is truly a threat on set pieces. Marc Stendera filled in sparingly for Coach Hütter last year, and Eintracht is actively looking for a transfer partner for him. Stendera has never regained his promise since a knee injury took him out of action in the 2015/2016 season. A former Germany U-21 player, Stendera could fill in for spot duty, but it appears as his time vying for first team minutes are over in Frankfurt. Djibril Sow (transfer) was an intriguing pickup for Fredi Bobic this off-season. Sow played under Hütter at BSC Young Boys in the Swiss Super League posting 2800 minutes played in the 2017/2018 campaign. He is an athletic, rangy player that brings lots of action and energy to the pitch. "Djibril Sow is a player who has caught the eye on the international stage recently, he was highly sought-after, which makes it all the more pleasing that he chose to come to Eintracht Frankfurt. We're absolutely convinced of his ability to perform and his potential to develop further. His technical, strategic and athletic abilities will strengthen us." said Fredi Bobic on his arrival.
Forwards
Ante Rebic, Gonçalo Paciência, Daichi Kamada, Dejan Joveljic
This area has gone from The Eagles strongest position, and possibly the best combination of young attacking talent in Europe to an area of enormous concern. Last year Haller and Jovic combined for 47 goals and 19 assists across all competitions. Haller was more than just a goal scorer, he was the most important offensive player on Eintracht's squad. He led all Bundesliga players in both duels won (459) and aerial duels won (205), ranked 5th in goals (15) and 6th in assists (9) and his player rating of 7.55 ranked 5th. The two were one of the most dynamic duos in all of Europe last year, and add them to Da Costa and Kostic you had a lethal attack going forward. Rebic is almost forgotten about, but playing in an unfamiliar position and often the third in line for the ball still managed to post career numbers in goals (10) and assists (6). Those numbers and opportunities should vastly improve this year. Rebic will most likely be the primary threat every second his is on the field. He's a bull, and capable of making spectacular plays. Gonçalo Paciência is a solid #2, and has a knack for heading the ball in the back of the net. A decent distributor, he should be able to help fill the playmaking void left by Haller's departure. While not as skilled or dynamic, Paciência is a hard worker and has the skill to succeed in the Bundesliga. Daichi Kamada is an interesting player. Breaking through on loan last year for Belgium's Sint-Truidense VV, Kamada banged home 16 goals to go with 9 assists. Kamada is a skilled player, but not the athletic specimen of Haller. The 23 year old has a thin frame and slight build and there is question if he can handle the rigor of both Bundesliga and Europa League play. Dejan Joveljic is a young (19) Serbian striker much in the same mold as Luca Jovic. Both Kamada and Joveljic have showed promise in the early goings of the 2019/2020 season. Joveljic scored the game deciding header in his first action during Europa League qualifying. This is a position that could haunt Eintracht this year, but is really a coin toss as to who will perform outside of Rebic.
Synopsis:
This is going to be an interesting year for Eintracht. Who will step up and fill the gaps left by the departures of Haller and Jovic? Will they be able to play the quick hitting, exciting style that Coach Adi Hütter is known for? The Eagles desperately need play making and goal scoring, and with CEO Wolfgang Stuebner stating that money is tight despite the moves of Haller and Jovic, that most likely will have to come from within. Rebic, Paciencia, Kamada, and Joveljic will have to step up their games in order to provide the offensive punch that Eintracht needs to compete with the big boys of the Bundesliga. Last year, the lack of depth was evident as Eintracht ground to a halt over the last three weeks of the season. As great as Jovic, Haller, Kostic and De Costa were, they showed signs of exhaustion over the final month of play. With Eintracht fighting for a spot in Europa League, hoping to make a run in the DFB Pokal, and balancing a very competitive Bundesliga schedule the new additions will be key. Hütter must do a much better job at rotating the squad and keeping them fresh. It would be negligent to leave out the effect that Eintracht's fans have on their beloved team. The Frankfurt Faithful are the best fans in all of Europe and quite often turn away games into home games. On matchdays, the entire Commerzbank arena is a giant supporters section, and they travel well. Over 10,000 supporters traveled to Italy for a matchup against Inter Milan, and the energy they bring energizes the men on the pitch. They are the 12th man, and this team with this coach and these fans are a wonderfully deadly combination both home and away. Celebrating the 120th year of Sport Group Eintracht, the fans will have plenty to watch this year.
Prediction:
The Eagles, with the help of the new additions and the emergence of Paciencia and Kamada will notch into the 5th spot in the Bundesliga this year. Look for Eintracht to show well in Europa, making it out of the group and advancing to the quarterfinals. The DFB Pokal is a coin flip, but look for The Eagles to make a nice run before being knocked out mid tournament.